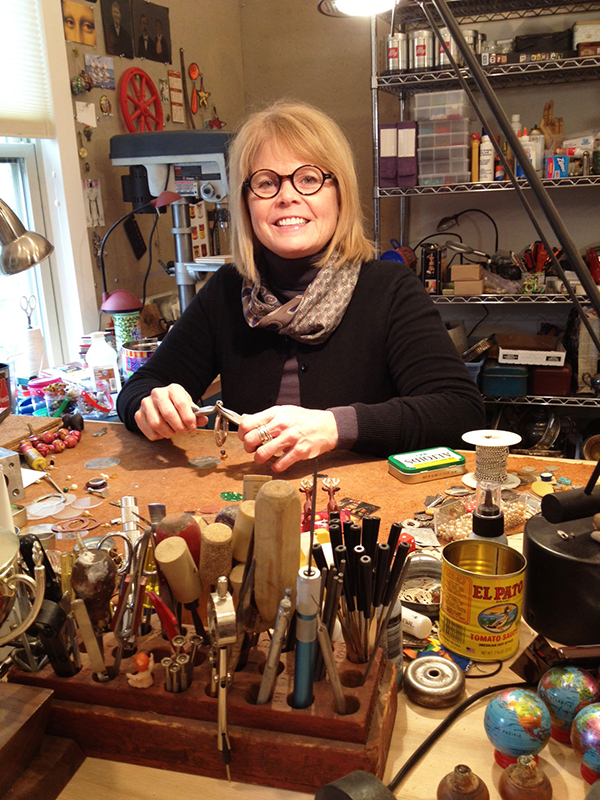 My Aunt Eula had style.  She wore "over-the-top" costume jewelry and the highest heels every day to her job, teaching sixth grade.  She played honky-tonk piano by ear, her hands flying up and down the keyboard.  She loved to give "fancy" parties in her little bitty house; mostly to show off her silver-plated tea service and her delicious petit fours.
When Aunt Eula passed away she left me the contents of her house.  What do I do with all this "fancy" stuff?  I'm not a china cup and saucer kind of girl.  Give me a handmade mug with a hefty handle any day.  Because I loved my aunt so much, I felt a responsibility to honor her and keep her memory alive.
I started working with metal after taking a course at Arrowmont School of Arts and Crafts.  I loved hammering on the anvil and using the torch.  Through trial and error I discovered a way to make jewelry and honor my aunt at the same time.
I felt Aunt Eula's disapproval the first time I cut into one of her silver-plated trays.  I felt her approval when the first pair of earrings was finished.  Now, I believe she not only approves of what I'm doing with her lovely things but she also serves as my muse.  I keep a picture of her on my worktable and a day doesn't go by that I don't mention her in some way.
I have made it my artistic mission to reclaim items and use them in different and unexpected ways to create jewelry I would want to wear.  I use, with great appreciation, items from relatives and life-long family friends.  I raid everyone's junk drawer and tool shed for treasures and inspiration.
I feel a woman chooses jewelry because it speaks to her and makes a statement about who she is.  I make pieces with love and gratitude and it come through in the jewelry I create.  Thank you, Aunt Eula.
I grew up in a small town in West Tennessee where I played Kick-the-Can, marched in the school band, cheered for our losing football team, and was elected Homecoming Queen.
I attended Middle Tennessee State University where I majored in Art Education and did not "go Greek".
After teaching for three years in Knoxville, I moved to Germany where I taught for the Department of Defense Dependents Schools.  I taught "Army brats" for fourteen years.  I traveled, saw great works of art, and ate my way around Europe.
I returned to my little hometown to teach at the high school where the football team was no longer losing.  There I taught the children of many of my childhood friends.
I moved to Nashville five years ago.  I am currently teaching in Mt. Juliet and I never, ever wear high heels to work.  I've never felt more at home or more inspired to create.